#2367
Grand Theft Auto: The Trilogy – The Definitive Edition

v1.0.0.14377/14388 + Essential Mods and Fixes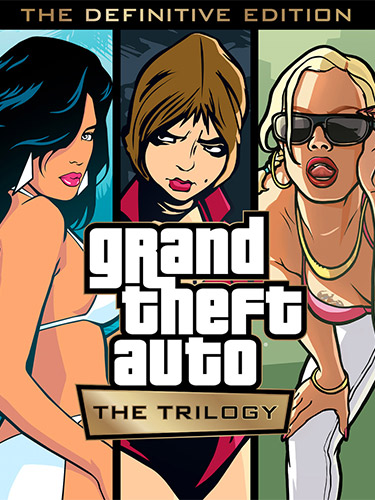 Genres/Tags: Action, Shooter, Driving, Racing, Open world, QTE, Stealth, First-person, Third-person, Top-down, 3D
Companies: Rockstar Games, adapted by Grove Street Games
Languages: RUS/ENG/MULTI13
This game requires Windows 10+ Get Windows 7 fix below
Original Size: 30.9 GB
Repack Size: 21.3 GB
Download Mirrors
Discussion and (possible) future updates on CS.RIN.RU thread
Screenshots (Click to enlarge)
Repack Features
Based on updated Grand.Theft.Auto.The.Trilogy.The.Definitive.Edition.RGL.Rip-InsaneRamZes Rockstar Store release: 30.9 GB
Games versions: v1.0.0.14377 (GTA III), v1.0.0.14388 (GTA VC, GTA SA)
Goldberg/whitee crack applied over; Alternative Deftones crackfix is available in NoDVD folder after installation
The following essential mods and fixes are included: No Outlines mod, Water Ripple Fix, Fog Distance Fix, Better Rain mod, Vice City "Gun Runner" mission fix
Custom launcher for three games added, allows running them in either DirectX 11 or DirectX 12 modes
100% Lossless & MD5 Perfect: all files are identical to originals after installation
NOTHING ripped, NOTHING re-encoded
Significantly smaller archive size (compressed from 30.9 to 21.3 GB)
Installation takes from 20 minutes on 24-threads CPU to 1 hour 45 minutes on 4-threads CPU
After-install integrity check so you could make sure that everything installed properly
HDD space after installation: 30.9 GB
Language can be changed in games settings
Repack uses XTool library by Razor12911
At least 2 GB of free RAM (inc. virtual) required for installing this repack
#2367-BSE
Grand Theft Auto: The Trilogy – The Definitive "Barbra Streisand" Edition

v1.0.0.14296 + Essential Mods and Fixes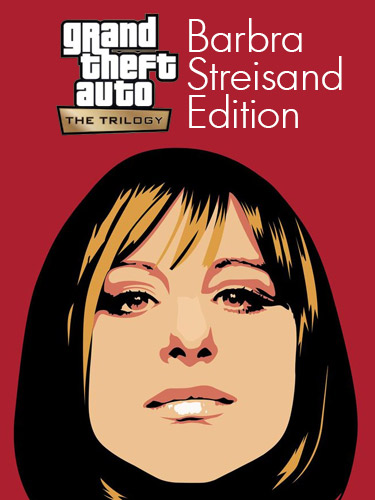 Genres/Tags: Action, Shooter, Driving, Racing, Open world, QTE, Stealth, First-person, Third-person, Top-down, 3D
Companies: Rockstar Games, adapted by Grove Street Games
Languages: RUS/ENG/MULTI13
This game requires Windows 10+ Get Windows 7 fix below
Original Size: 33.9 GB
Repack Size: 21.2 GB
Download Mirrors (The Definitive "Barbra Streisand" Edition)
Repack Features (The Definitive "Barbra Streisand" Edition)
Based on Grand.Theft.Auto.The.Trilogy.The.Definitive.Edition.RGL.Rip-InsaneRamZes Rockstar Store release: 33.9 GB
Games version: v1.0.0.14296
Goldberg/whitee crack applied over; Alternative Deftones crackfix is available in NoDVD folder after installation
The following essential mods and fixes are included: No Outlines mod, Water Ripple Fix, Fog Distance Fix, Better Rain mod, Vice City "Gun Runner" mission fix
Custom launcher for three games added, allows running them in either DirectX 11 or DirectX 12 modes
100% Lossless & MD5 Perfect: all files are identical to originals after installation
NOTHING ripped, NOTHING re-encoded
Significantly smaller archive size (compressed from 33.9 to 21.2 GB)
Installation takes from 7 minutes on 24-threads CPU to 40 minutes on 4-threads CPU
After-install integrity check so you could make sure that everything installed properly
HDD space after installation: 33.9 GB
Language can be changed in games settings
Repack uses XTool library by Razor12911
At least 2 GB of free RAM (inc. virtual) required for installing this repack
Grand.Theft.Auto.The.Trilogy.The.Definitive.Edition.Deftones.Crackfix_V2
Includes support for Windows 7 and fixed keyboard issues for some users.
Before applying Crackfix V2 copy all files from "NoDVD\Deftones Crackfix\", which will apply old crackfix 1st. This is a necessary step, as Whitee crack uses modified EXEs and Deftones one require unmodified ones, which are localed in "NoDVD\Deftones Crackfix\" along with crack files.
Firstly delete the following files, these files are unnecessary now:
Deftones.asi
orig_socialclub.dll
version.dll
And apply the new crackfix:
https://pixeldrain.com
https://anonfiles.com
https://bayfiles.com/
https://www.zippyshare.com/
Added Windows 7 x64 support. (Tested on Windows 7 SP1 x64, Windows 8 x64, Windows 8.1 x64 and Windows 10)
Fixed the keyboard not working on some Windows installations.
Make sure the game is up to date and all your files are original. Delete the remnants from different cracks, if you are using EXE from different cracks, make sure to USE the original EXE files that are
compatible with your version of the game.